Charcoal Ovens Embers Oven
Charcoal Ovens with Drawers
Charcoal ovens are well known in the Hotel and Catering Industry. They allow to cook with charcoal in a closed chamber at higher temperatures than a traditional grill, getting meat and fish juicie, maintaining their texture and flavour due to a heat stroke which prevents food to be cooked from inside.
The new Embers Oven goes beyond traditional charcoal ovens.
These is the perfect choice for professionals who looking for an efficient, safe and functional equipment that allows to cook different dishes at once with three different temperatures.
The grills are housed in full removal drawers that allow individual opening of each roasting section, which prevents losing heat while food handling, exposure to high temperatures, and the exit of flames or embers.
Refractory steel and iron shape a machine with an innovative design that allows cooking on the grill, optimizing fuel and time.
Models of Tabletop Ovens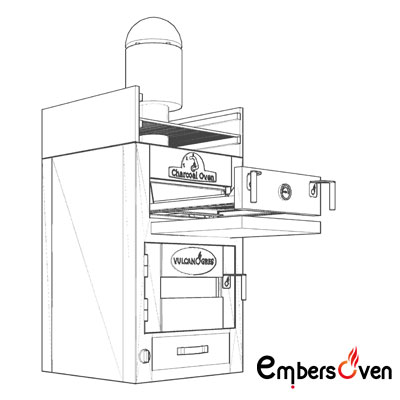 Front drawer with plates warmer
Front drawer without plates warmer
Lateral drawer with plates warmer
Lateral drawer without plates warmer
Models of Column Ovens
Lateral Drawers with plates warmer
Lateral Drawers without plates warmer
Front Drawers with plates warmer
Front Drawers without plates warmer
Request more information or a custom estimate