Products
Shelves and Racks
Furniture
Ironworks
Sinks
Tajos de troceo y fibras de corte
Professional Knives
Accessories
Safety and Hygiene
Washbasins
Taps
Charcoal ovens and barbecues are the perfect option to get the authentic taste of EMBERS, with perfect texture and point of juiciness. At the same time, if you required, the ovens can give a smoky flavour to the food. Th ovens are specially designed for cooking meat, but we can cooked all kinds of food and dishes.
These ovens and barbecues don't have any electric or gas installations.
Charcoal ovens and barbecues can be used with any kind of charcoal, and even with small pieces of wood.
Characteristics
Glass door
Insulation
Lifting system for charcoal hopper
Oil collector
Collection of ashes
Models
BR-45
BR-48
BR-50
BR-130
BR-130G
BR-170
M80 (Barbecue)
Multifuntional (Barbecue)
Grill-Rotisserie
This furniture gets its quality from the used components and the manufacturing process.
The stainless steel that we use is AISI 304, with 2B finish, mainly for interiors and finely satin-finished on the outside, including the rear part*. The body of the furniture, fittings, hinges and legs are also made of stainless stain AISI 304.
The used components are top quality products from the best brands: compressors L'Unite Hermetique, Danfoss, electronic controllers Elliwel, Osaka, fans Elco, evaporatores with anti-corrosion protection, etc.
Characteristics
Quality, Robutness and Reliability
Optimal use of space
Furniture with remote control unit
Doors with glass
Standard locks on all cabinets
Modelos
Under Refrigerated Showcase
Against Refrigerated Showcase
Refrigerated Counter "Top Display"
Frosted glasses
Bottles Refrigerator
Refrigerator Gastronorm
Table for salads
Refrigerated Table Snack Gastronorm
Refrigerated table GN for salads
Refrigerated table GN high salads buckets
Refrigerated table for Patisserie 600x400
Refrigerated table for Pizzas
Refrigerated table for pizza, high buckets
Refrigerated cabinet Snack (Grupo Arriba)
Refrigerated cabinet Snack serial 600
Refrigerated cabinet Snack (Grupo Abajo)
Refrigerated cabinet Gastronorm
Refrigerated cabinet for boxes of fish
Refrig. cabinet Gastronorm Variable Config.
Refrigerated cabinet Gastronorm
Refrigerated cabinet Patisserie 600x400
Freezer
Drying cabinet for sausages and similar
Drying cabinet for mature cheese
Cabinet for dry meat maturation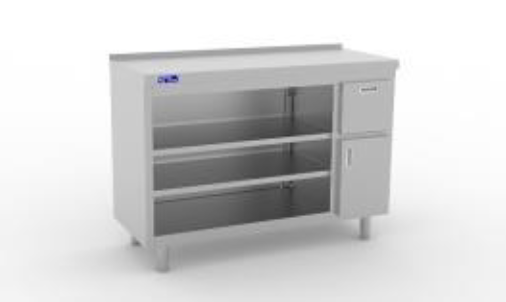 Furniture for coffee machine
Furniture with shelf
Request more information or a custom estimate