Robata is an essential equipment in Japanese restaurants that allows a cooking method similat to barbecue where the food, inserted in skewers, is cooked slowly over charcoal. It has different heights of grills to archieve different cooking temperatures. It is made of stainless steel and incorporates a turbo–embers system, that speeds up the formation of the embers, and ash collection drawers.
Fish, seafood and vegetables are traditionally cooked with this equipment.
At Vulcano Gres we manufacture charcoal or gas robatas of different dimensions for adapt to the needs of the customer, either as compact, tabletop or built–in equipment.
Models
Robata Grill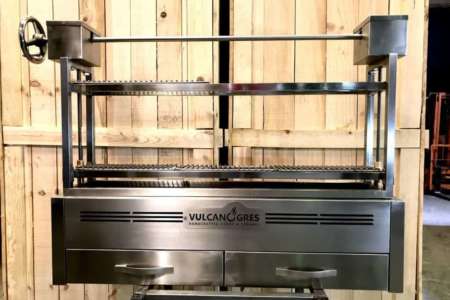 Robata Yakitori
Robata Racchelli
Gas Robata
Accessories
Robata Mini Swords
Robata Fry Top
Lamp Sword
Build in Robatas
Charcoal Drawer
Cold Chamber
Request more information or a custom estimate